Located in Davidson County NC.
Dedicated to Quality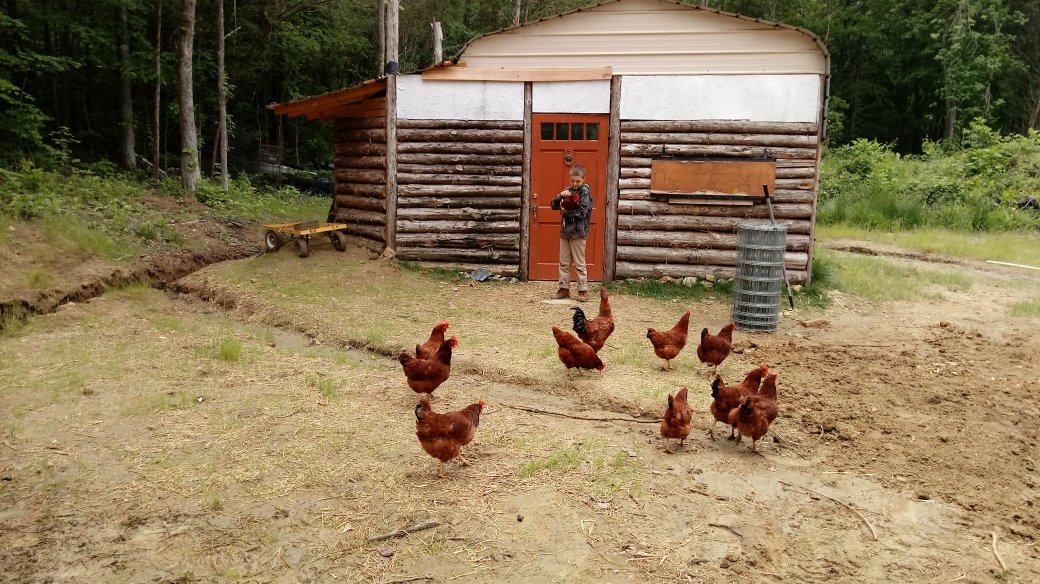 Homesteader Bird of Choice
Our breeding stock produces the finest poultry in the world. Our N.C. Rhode Island Red chicken is a true, slow growing heritage chicken with parchment-like skin and an unsurpassed flavor and texture. This bird is great on the rotisserie, roasted in the oven or braised
Characteristics
Bred for generations to forage from the land and be fed by hand. Our Heritage Poultry is a step above anything you will find anywhere else. We raise these special birds with old-world care and tradition on our small family farm. Slow grown & open air-Raised locally in North Carolinian No antibiotics, hormones, growth stimulants, or animal by-products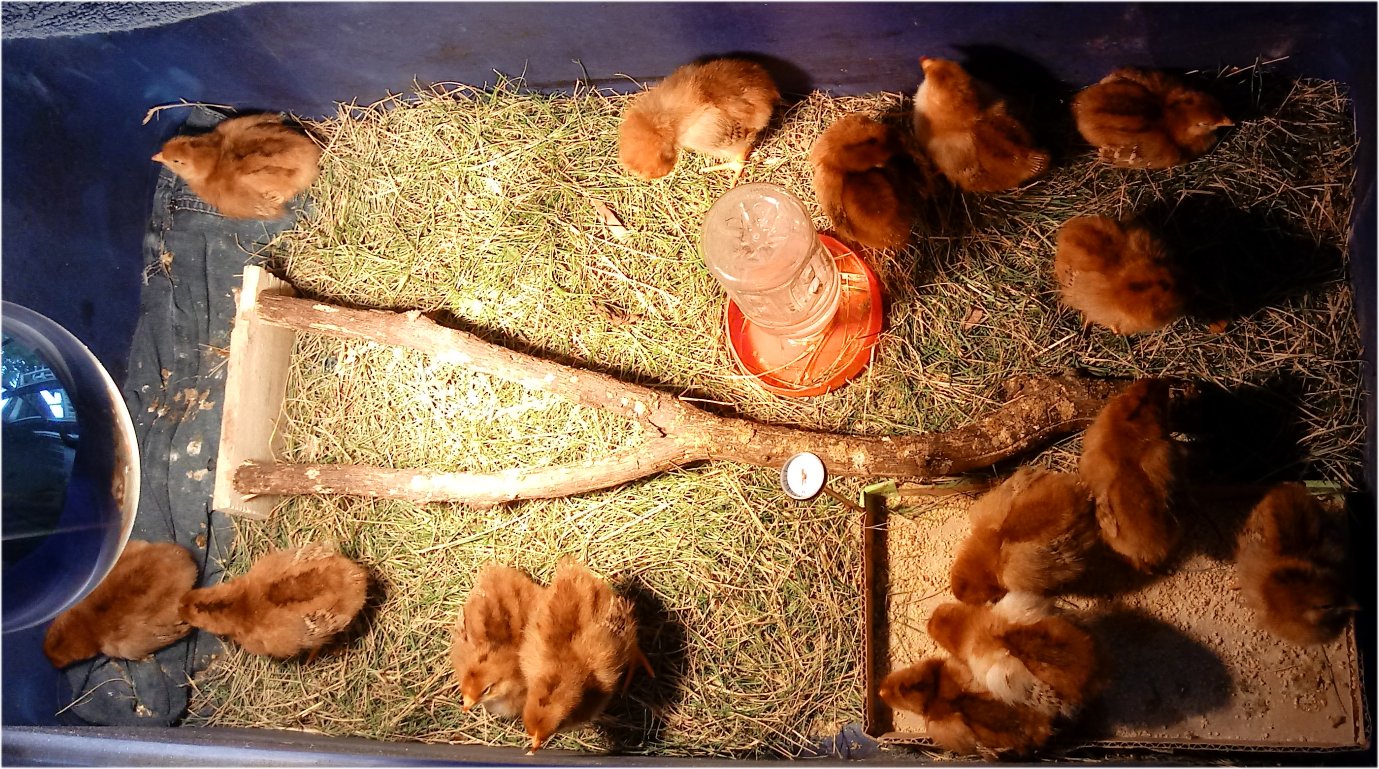 To provide the optimum personal attention we feel is required to properly hand raise a family bird. Our chicks are hatched in broods of 18 to 36 per set. Currently we have a very high hatch rate only loosing 1 per 18 set (from our fertilized eggs). Although our birds become broody in the spring and can be easily encouraged to set clutches of eggs, we are continuing to hatch and brood our chicks in custom incubators.
At adulthood a normal hen weighs about 6.5 pounds and a rooster about two pounds more. During her first lay cycle, our hens will lay about 260 eggs a year, or about five a week. Just a few will provide all the eggs a family uses. Because we gently interact and hand raise our birds these Rhode Island Reds are very calm. Our birds are known for their gentle nature, quietly going about their business as you gather eggs, fill feeders, and do other coop chores.
Our Passel of Hogs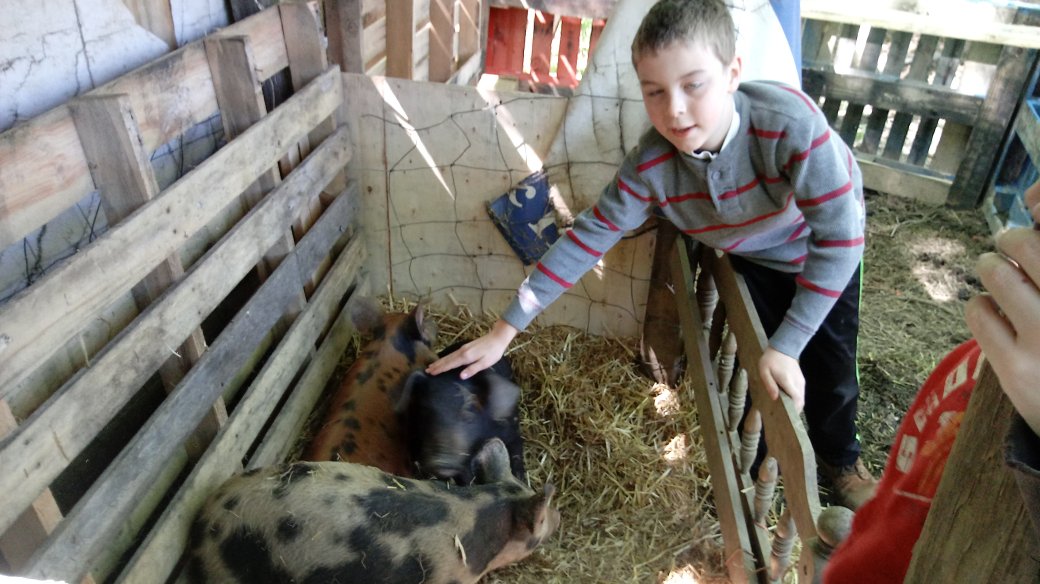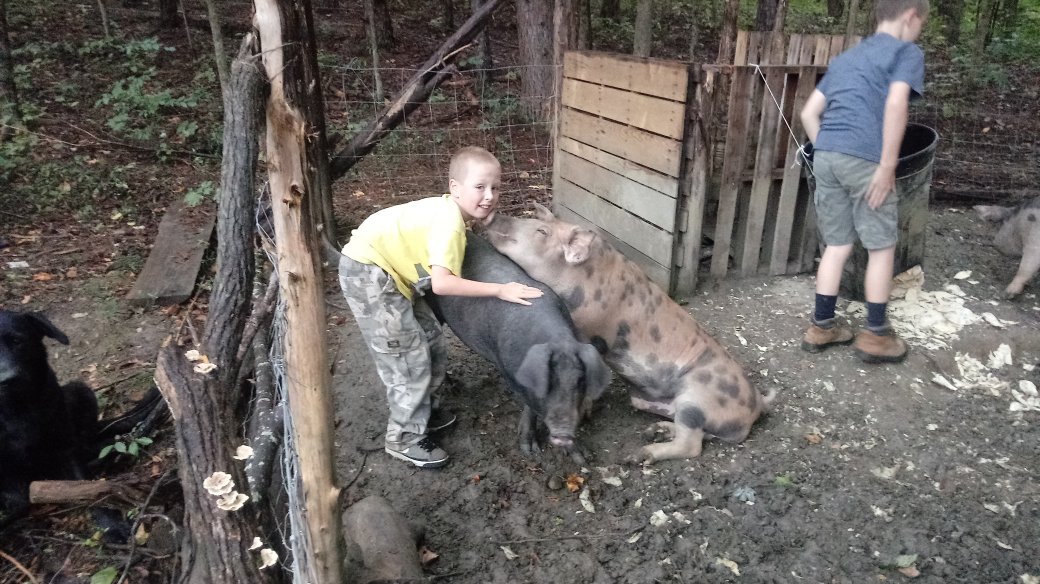 Hand raised and treated with love as piglets they love to be petted and will come running for attention. Free ranging, they roam about during days but they still enjoy sleeping late in their open access barn when it is cool.
Why Swine..?
Winston Churchill famously said that "Dogs look up to man. Cats look down to man. Pigs look us straight in the eye and see an equal."
We think pigs are awesome and take especially good care of ours. Our pigs are very smart, friendly, naturally calm and playful with children. They love getting tummy rubs and will lay down, roll on their back if you sit with them.
Our Pigs are extraordinarily intelligent. They are curious smarter than young children of at least 3 years of age, dogs, and even some primates.
Our Pigs love to play with toys, balls and enjoy spending time with their people.
Our Pigs are very clean, keeping their toilet area far away from where they lie down and eat. Even newborn piglets will leave the nest to go to the toilet within hours of birth.
Our Pigs are very peaceful extremely social animals, rarely showing aggression. They form close bonds with other individuals and love close contact and lying down together.
Most importantly,.... Our Pigs taste the BEST,... Primarily pasture raised, the lower fat content and more lean texture offers a superior savory flavor when baking, roasting or grilling.
Except for the underbrush that the pigs keep clear, the area is heavily wooded. Our pigs also enjoy their own pond, they don't like to swim but do bask at the edges on hot days.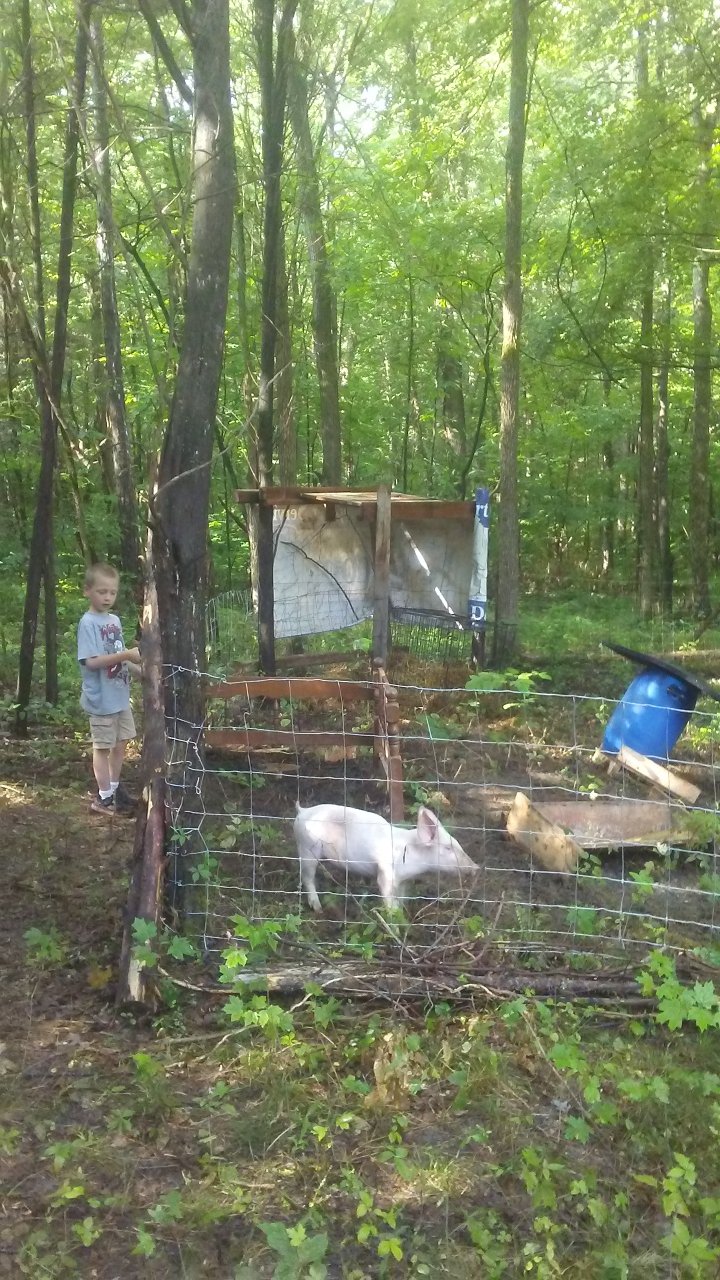 Breeding
Soon we will begin to allow our pigs to breed.
Our Boar; specifically bread for Size and Temperament is currently available for stud services.
Here our animals live in peace with nature in a quaint secluded, quiet valley where a slow running Crick springs from the base of Clodfelter Road in Davidson County NC.
He lives long that lives well; and time misspent is not lived, but lost forever. Waist no time so that you may defer no ends.
Thank you for visiting Crick Valley Farms, Trusting first in God next in Labor