Buy a cabinet or Rent our games by the Day, Week even Monthly. We provide Arcade, Juke and Slot Machine rentals to the Triad areas of NC. K-Vegas Arcade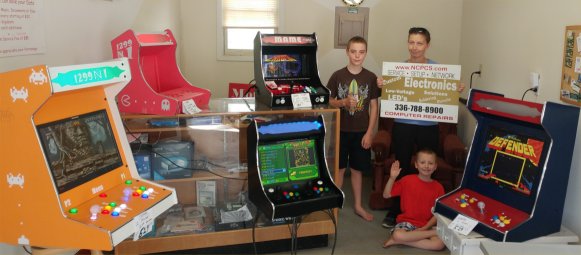 All the classic arcade video games you played in the past…Ms Pacman, Centipede, Galaga, Dig Dug,. Donkey Kong, Asteroids, many others like Ms Pacman, Burgertime & Galaga and more. And who can forget those 2 player fighters like MORTAL KOMBAT, STREET FIGHTER, Metal Slug and others! REAL arcade machines…we have them set for FREE PLAY so no coins needed! Your guests play free—and as long as they like! Here for a full game List
Play arcade GAMES, have a competition...! HOW POPULAR WILL THIS BE at your event….and our pricing includes OUR truck delivering and setting up the machines. We use no sub contractors…you are dealing with NCPCS.com Delivery is FREE and the Pickup Fee is only $25.00 anywhere in the Triad area of NC.) Rent for as long or as short as you wish.. Here at NCPCS Renting no long term leasing is required.
MAME or JAMMA (Types of Arcade Cabinets)
---
NEW Cabinets available,... We regularly buy, sell and trade arcade cabinets. Stop by, tryout games for FREE Monday-Saturday 7am-6pm...
---
The JAMMA 1299N1 Bartop has 1299 80's Classics Games all packed into a medium sized two player commercial quality arcade cabinet. Includes a 19' LCD monitor, laminated control panel with Lighted buttons and flashing color Joysticks.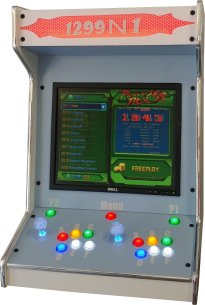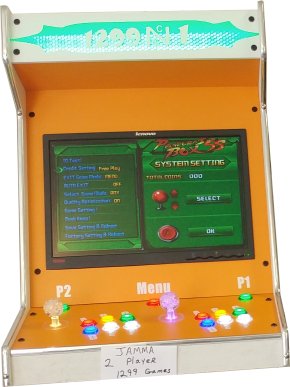 Commercial Model Formica laminated is shown.
---
Sturdy construction, 29" tall with a 21" wide 21" square footprint: Commercial models include Formica laminated control surfaces, sides & top. 3/8" Safety plexiglass marquee. A brass hinged rear service access door in the back pannel and optional chrome edging. Fits up to a 19" monitor. Formica laminated sides, top, lid, control panel and monitor frame for maximum cabinet durability.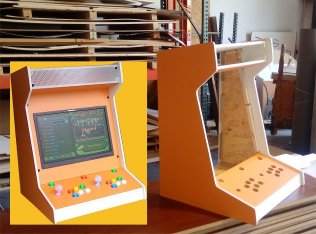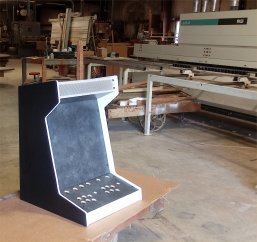 Furniture Quality arcade cabinets made to order each hand crafted, with pride.!
All of our arcade cabinets are hand made and assembled in N.C. the Furniture capital of the World.
---
We also offer Smaller Footprint (Mini cabinets), Same 19" or Larger Monitor.
This is our current NCPCS mini-MAME lineup. (MAME frame, Retro-Pi, Pirate Cade)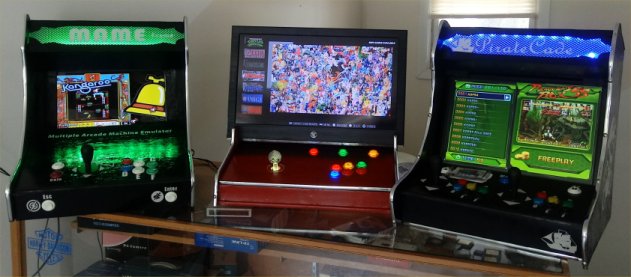 ---
Starting from the middle... our Mini-MAME featuring the latest RetroPie and Emulation Station
6899 GAMES,..With a 24" Television/Monitor and portable Play-stand... The NCPCS RetroPie MINI with Base is our version of Less is
MORE........... Bigger Play Screen, Smaller Foot Print, More Games, TV included and yes LESS MONEY>>>>

ONLY $430.00 or 2-Players $500.00

Easily turn on, off or change volume with the integrated control panel on the side of the monitor. Choose options select games and more all from Joystick and Buttons.

Fully configured and setup on a 21" x 17.5" footprint Arcade Base utilizing the RASPBERRY PI 3B+ Full Setup with 33 different gaming systems, total collection capable of playing over 6699 games.
Simply plug it in and your ready to watch TV or select your ROM's and play. more Information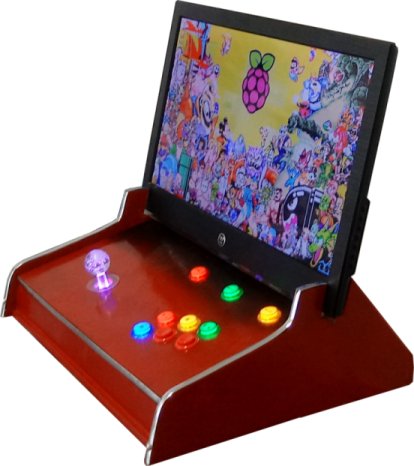 ---
Farthest to the right in our Linup is the JAMMA 1299 GAMES,... Pirate Cade MOBILE (Two Player) all packed into a SMALL sized bar top arcade machine. With a 16.5" x 18.5" footprint and weighing in about 20 pounds designed to easily fit in the seat of a car. This machine is wired with a standard JAMMA harness to a 1299 Game Board, 19' LCD monitor, 10 button control panel with 2-HAPP competition Joysticks. Lighted Marque with your choice of Color, Lettering and Graphics. Great for traveling or as a space saving option. Wired with a JAMMA harness for future upgrades. (due to the small footprint the control panel buttons and Joysticks are not illuminated)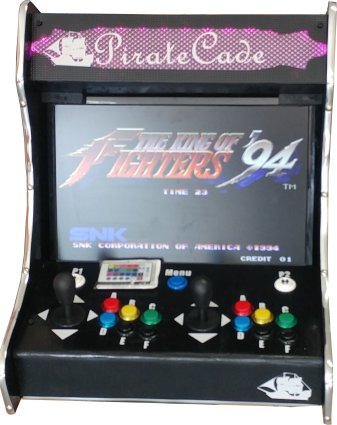 Starting at $675.00 USD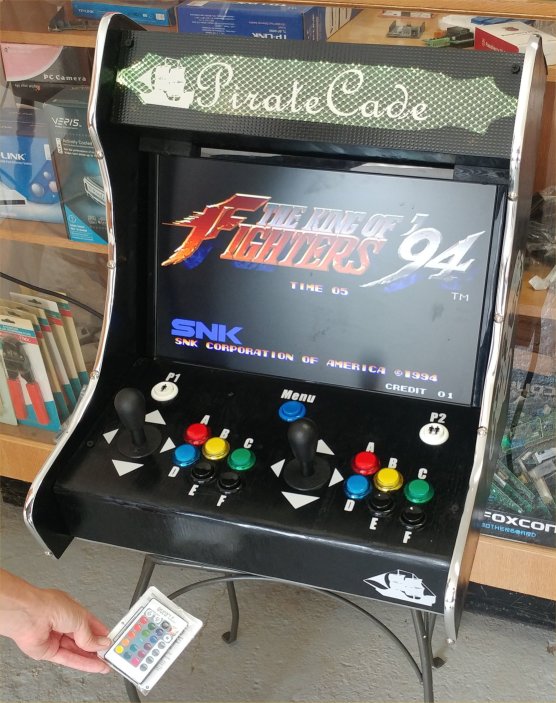 Create the ambiance you desire with a variety marque light settings. (Remote Included)
---
Options more Options.....> 1st in the Mini-Mame lineup; YES another way to go mobile,.. Use your LAPTOP and a MAME FRAME another NCPCS Multi-Arcade solution .......... Now only $185 USD.
Laptop Console with a Small Footprint 16.5" x 17.5". for up to 15" screen size laptops. With Lighted Marque. Your exising laptop easily slides into the back of the Mini-cabinet. The control panel is removable while your laptop is installed to allow easy access to the Keyboard and Touchpad.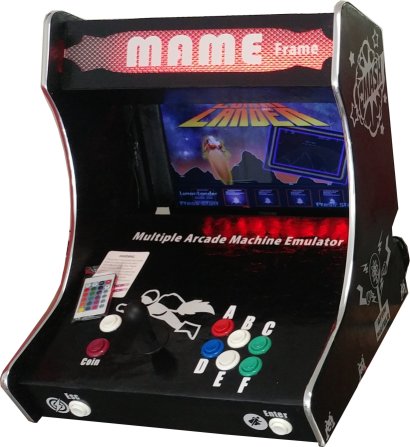 Enough to keep you entirely in the MAME environment in the office or on the go. 10 buttons and a completion style joystick. Your laptop slides into the back slot and the USB control panel is removable to access the keyboard for typing. High intensity LED light banner is USB 5v and comes w remote.
---
FULL SIZED bartop MAME, Gamming PC's... When Bigger is Better! Full sized 18"x23.25" Footprint.
Our, Current MAME Computer specs,.. 3.2 GHZ with 8 GB of RAM and a 19" Display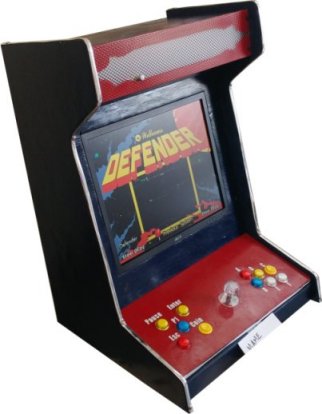 $529. or 2-Player $729.
Multiple Arcade Machine Emulator (Bartops),, Setup and Running with Your Name on the Marque... Volume control, remote for marque lights, lighted buttons a lighted joysticks, chrome trim. Choose any color you like with a 2 week lead time. Starting at $529 for one player and 2-Player for only $729.
(Upgrade: Full Laminate Formica (larger Footprint 21" x 21" base)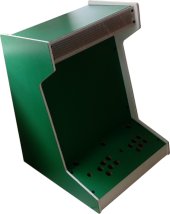 commercial cabinet add $175.)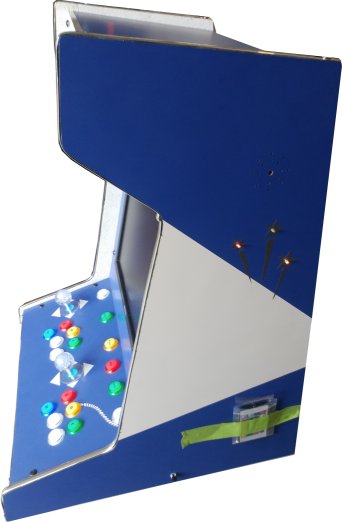 ---
Want to Rent; For any event.. we offer Low rates and FREE DELIVERY.... Thousands of GAMES AVAILABLE... your choice of simple to use Arcade, Slots and Juke boxes..! IN STOCK NOW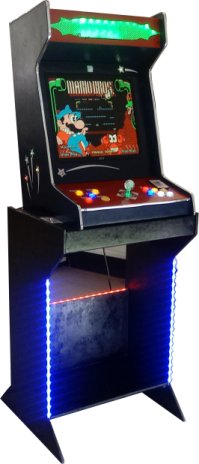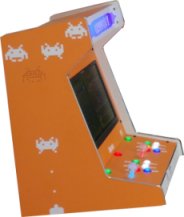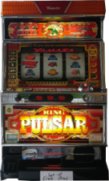 Personalized scheduling (336)788-8900
Fast equipment dropoff and scheduled pickup with 24 hours notice
Free Delivery anywhere in the Triad areas of NC.
Rentals start at $25 a day or $100. a week (7 full days)
Our games are 100 percent operational every light, switch and speaker.
Routine Preventive Maintenance. To catch breakdowns before they happen.
Partner Opportunity,.. Turn unused space into Profits sometimes at NO COST TO YOU.. Sales commissions on games you sell with timely and detailed collection reporting to Coin-Op partners.
Multiple machines available for your Home, Hotel, Lounge or any Special Event.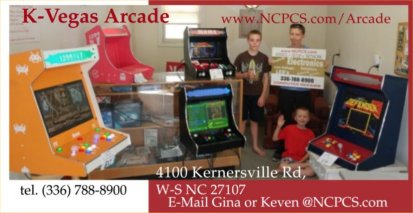 We stock cabinets, controllers, buttons, joysticks, switches, speakers, accessories and much more.