Software Development group ncpcs.programmer@gmail.com

Here at NCPCS we regularly work with PHP, Java, Java Script, HTML, CSS, Python, Angular JS, JSON, XML. We are looking forward to creating your next Android App or Full Featured Website Application.
If your looking for affordable website development & would like to see your website listed 1st on Google, Yahoo and other major search engines we can help.
To get a general idea of what your looking for,... Pick from a Multitude of Free Templates at OSWD.org Or, We can create new, even customize or re-write your old website.....
Free help choosing your own Domain Name (www.GoDaddy.com)
Web Hosting with Email and Form Feedback support
Starting at only $22.00 a year, e-commerce sites slightly more depending on details
After your Online we can change, edit or update your site anytime you choose. Sites Currently Under Construction
Crick Family Web www.Crick.com
Android and i-Phone Apps created

How about an App to help showcase your products or services. Do you have an idea for the next great App or awesome game. i-Phone or Android
Here is one example of an App we created for a client. More information about this Free App can be found here at the Global Consciousness Project page
To install and run this Free App on your phone you must allow the installation of Apps from sources other than google play store. Detailed instructions to do this are on the GCP page.
Developing the IOT these are some examples of projects we've designed
Arduino Programming and electrical configuration example here
When motion is detected by the IR detector signal is sent to the Arduino. Next this program prints detection to Serial Monitor then starts LED's count down Green then Yellow then Red..... then a Relay will come on and Power indicating flashing LED activates to let you know the relay is activated.
At idle no IR motion, the pending power down if the relay is indicated by the Green then Yellow then Red going off sequentially before Relay and indicating flashing LED are de-activated.
Raspberry Python Scripting and electrical configuration example here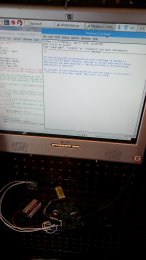 Detects motion with PIR sensor then sends an E-Mail using Gmail account to bounce to any email account you like. when motion is detected by IR detector an E-Mail is sent to your account, a Relay is activated switched through a transistor, an LED is activated notifying that the EMail has been sent and time tracking is logged on the Monitor.
Under Development,.......
Computerized YZ axis grid alignment targeting system is an electronic shot aiming detection device that works in conjunction with a Raspberry Pi an 81 grid LED array an accelerometer and our software. More information here with a Drone or Robotic camera/weapons Targeting System.
Custom Electrical Engineering is a Hobby for us,... Join us, lets have some fun..!
if you have an idea, we can custom design it.